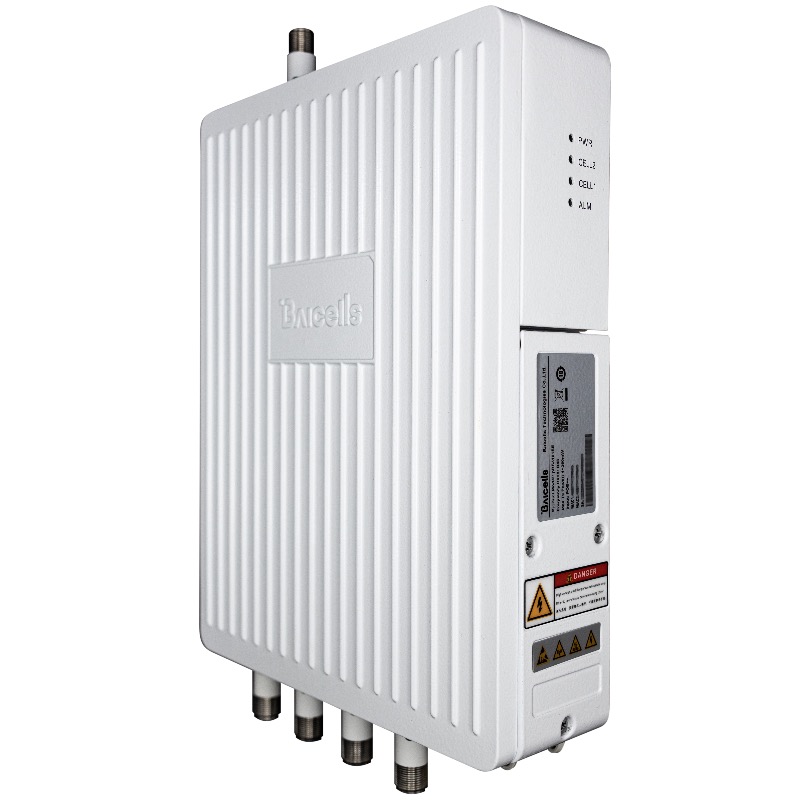 INTRODUCTION
The Baicells Nova430e is an advanced two-carrier outdoor eNodeB (eNB) compliant with 3GPP LTE TDD technology. This 4x250mW eNB can operate in Carrier Aggregation (CA) mode or Dual Carrier (DC)/split mode.
The Nova430 is available in two variants: The Nova430e, which has one 4-port or two 2-port external antennas, and the Nova 430i, which has four integrated high-gain LTE antennas. The Nova430e is described in this datasheet.
In CA mode, contiguous or non-contiguous channels are aggregated to provide up to 40 MHz bandwidth. This doubles the downlink capacity when CA mode is used with all CAT6/7 or higher user equipment.
In DC mode, each carrier is treated as an independent cell, supporting 96+96 users, with each supporting 5, 10, 15, or 20 MHz bandwidth. Using a Nova 430e in DC mode simplifies and streamlines the deployment of split sectors.
In addition to CA and DC mode options, HaloB (an embedded MME option) is available on the Nova 430e as part of the base software. The Baicells patented HaloB solution migrates the necessary core network functions to the eNB.
This product comes with a standard product warranty; an extended warranty is available.
Specifications
| | |
| --- | --- |
| Item | NOVA430e |
| LTE Mode | TDD |
| Frequency Bands | B48 and partial B42, B43 |
| Channel Bandwidth | 5/10/15/20 MHz per carrier |
| MAX Output Power | 24 dBm/channel |
| MIMO | DL: 2x2 on each carrier, 2 carriers |
| Peak Rate | DL: 220Mbps | UL: 56Mbps [See data sheet for details] |
| User Capacity | 96+96 concurrent users in DC mode, 96 concurrent users in SC and CA mode |
| Antenna | One 4-port or two 2-port external antennas compatible with N-type eNB connectors |
| Synchronization | GPS |
| Dimensions | With Joint: − 15 x 8.9 x 3 inches − 381 x 227 x 75 millimeters |
| Weight | With Pre-Installed Bracket − 10.5 lb/4.75 kg |
| Backhaul | n/a |
Documentation
| | | | |
| --- | --- | --- | --- |
| Name | Type | Date | File |
| Nova 430e Datasheet | Datasheet | 1-6-2022 | Download |
| Nova 430e Installation Guide | Install Guide, Quick Start Guide | 3-4-2022 | Download |
| CloudCore Configuration and Network Administration Guide | Install Guide | 3-14-2022 | Download |
| QRTB Software SNMP OIDs | API | 3-14-2022 | Download |
| QRTB TR-069 Data Model | API | 3-14-2022 | Download |
Firmware
| | | | |
| --- | --- | --- | --- |
| Name | Type | Date | File |
| QRTB 2.9.10 | Firmware | 3-29-2022 | Download |
| QRTB 2.9.10 Change Log | Release Notes | 3-29-2022 | Download |